"Sustainable insurance is a strategic approach where all activities in the insurance value chain, including interactions with stakeholders, are done in a responsible and forward-looking way by identifying, assessing, managing and monitoring risks and opportunities associated with environmental, social and governance issues. Sustainable insurance aims to reduce risk, develop innovative solutions, improve business performance, and contribute to environmental, social and economic sustainability".  UN Principles for Sustainable Insurance.
We are committed to providing marine liability insurance in a way that embraces:
The UN Principles of Sustainable Insurance as they are relevant to P&I insurance.
The UN's Sustainable Development Goals (SDGs).
Opportunities that sustainability challenges may present.
As such, we have chosen to focus on those UN Sustainable Development Goals that we believe are most relevant to our business and where we believe we can play a meaningful role:

Sustainability

– Strategy and Policy
"We wish to avoid being harmful to people, communities, the environment or depleting natural resources, thereby supporting long-term sustainability, social and ecological balance."
As a responsible insurer, we recognise a healthy balance between wealth and well-being as essential to building a sustainable and viable society. We adhere to the core values captured in our Mission Statement of honesty, integrity, professionalism and sustainability which determine how we will meet the needs and standards of our external and internal stakeholders.
In line with the relevant UN SDGs, we aim for our activities to avoid harm to people, communities and the environment. Our ambition is for our activities to further long-term sustainability as well as a social and ecological balance, and to support the sustainability goals of our stakeholders.
Sustainability issues will continue to evolve and our strategy and policies will develop accordingly. In meantime, our focus is on maintaining a diverse and competent team; reducing waste and our own carbon footprint; ensuring financial strength; and ensuring our expertise to respond to maritime incidents effectively. Doing this will minimise our own environmental impact and third-party exposures and protect the continued viability of our policy holders and other stakeholders.
"Our Sustainability Policy drives us to deliver a consistent approach to sustainable business operations in line with internationally recognised principles and the expectations of our stakeholders"
Our Sustainability Policy embraces the environment, social responsibility and governance and aims to ensure that the decisions we make give consideration to – and are aligned with – our sustainability strategy. It underpins our sustainability standards for our business relationships and for our insurance products and services. Our policy also aims to support our Members and Assureds in achieving their own sustainability ambitions.
Sustainability – Environment
"We are committed to playing our role to keep the global temperature rise below 2° Celsius and we will continue to reduce our overall environmental impact."
We will achieve this through team training and engagement programmes that encourage us to: 
Use natural resources efficiently and optimally – including recycling, minimising the use of single use plastics, and reducing waste.

Set targets to reduce carbon emissions and energy consumption through efficiency improvements such as reduced overseas travel and the use of renewable sources. Please see below for more information about our Co2e emissions.

Integrate sustainability issues, including climate risk into our risk management, underwriting and capital adequacy decision-making processes, including research, models, analytics, tools and metrics to mitigate the impacts on the future operations of the business.

Support ocean protection initiatives aligned to the UN goals. Please see below for more information about what we are doing about plastic pollution.

Work with shipowners to reduce the risk of ocean pollution through their operations by raising awareness and improving operational practices to minimise the risk of releasing pollutants.

Maintain our financial strength, people skills and expertise - to respond to maritime accidents and pollution events involving our entered vessels, across the globe, in a timely, effective manner that minimises negative environmental impacts.

Work with the International Group and industry trade bodies to align our sustainability policies and achieve common goals.

Sustainability – Emissions
"Our target is to reduce our CO2e emissions by 50% by 2030 (from a 2019 baseline) in respect of our Scope 1, 2 and 3 emissions related to business travel. In the longer-term, we aim to be carbon-neutral by 2050."
Independent calculations under the Streamlined Energy & Carbon Reporting (SECR) Regulations show our CO2e footprint for 2019/2020 was 2,946 tonnes. 89% of these emissions resulted from business travel. Our travel policy has been enhanced and in 2020/2019 emissions dropped by 84% - largely due to Covid-19 related travel restrictions.
From October 2021, our London office has been supplied with 100% renewable electricity as certified by the Carbon Trust. Plans for 2022 include installing energy saving lighting and electric car charging points.
We are also working to identify and reduce Scope 3 emissions associated with our investments.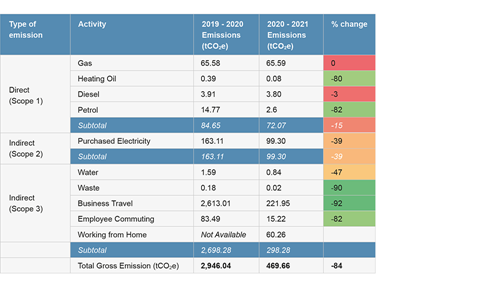 Sustainability – Pollution

"We are committed to supporting ocean protection initiatives aligned with the UN Sustainable Development Goals."
Our daily work involves loss prevention to reduce the risk of an incident that might adversely impact the marine environment; and to clean-up the result of any incident sensitively and rapidly. All vessels entered with us are members or associates of ITOPF to ensure technical expertise is on-hand to respond to a pollution incident.
Plastic pellets (or nurdles) are often moved by sea and when lost overboard can cause significant pollution. We support sustainable and sensitive transportation methods for nurdles and we are working with the IMO, UK Government, plastics industry bodies and the International Group of P&I Clubs to shape the future of plastics carriage in the marine industry. We are a supporter of Operation Clean Sweep, (see StopLoss update June 2021) which aims to reduce the marine impact following the loss of plastic nurdles. These are important elements of our loss prevention work to ensure that action is taken to manage potential losses before incidents happen, where possible, in order to reduce the risk of damage to the ocean environment and marine life.

Sustainability – Human Rights
"We respect the human rights of our employees. Our management operates grievance mechanisms and whistleblowing procedures in line with human rights principles, through which complaints and disputes can be resolved effectively."
We promote a positive and healthy culture across our operations, including diversity in the workplace and equal opportunities for all reflected, for example, in our Equal Opportunities and Dignity at Work Policies for employees.
We aim to make a positive contribution to society in the countries in which we operate, supporting the rule of law.  This includes policies to prevent modern slavery and combat human trafficking within the supply chain, alongside compliance with the requirements of the UK's Modern Slavery Act 2015. In the UK, we have partnered with a local charity, Future Frontiers, to support disadvantaged young people in the local community and counteract educational inequality.
More widely, we robustly enforce global human rights and other sanctions regimes throughout our operations including refusing cover for Members who elect to operate with sanctioned countries, companies, or individuals. We will cooperate fully with governments and international organisations to prevent sanctions breaches. For further information see sanctions. 

Sustainability – Labour Standards
"We are strong advocators for inclusivity and fairness in the workplace, gender equality and caring for the health and safety of all our employees."
Our business partners are expected to respect and promote labour standards and comply with our Modern Slavery Statement within their own operations, and to use their influence to encourage their own suppliers to follow suit.   
We also promote, participate and implement initiatives aimed at preserving safety of life at sea, providing effective security, compensation and immediate and effective casualty response for the victims of maritime accidents worldwide under international liability conventions and other national or regional liability regimes.
Our operations and activities aim to:
Ensure a positive healthy culture with best practice employment practices.

Respect and encourage diversity in the workplace, including equal opportunities for all.

Attract talent and maintain employees' long-term employability through development.

Ensure empowerment of female employees is actively promoted.

Ensure race, religion and personal lifestyle preferences are not a barrier through our Equal Opportunities and Dignity at Work Policies.

Ensure best practice occupational health is adopted in all our offices.

Implement well-being processes for employees and our Members' seafarers, for example through our work with ISWAN

Prevent occupational accidents within our operations and provide advice and support for our Members to do the same.

Ensure our claims services provide a class leading response to insured occupational accidents.

Ensure all employees have access to training programs to meet their needs.
Sustainability – Anti-Corruption
"We are committed to applying high standards of honesty and integrity consistently across our operations and in our business dealings. We do not tolerate corruption or bribery in any form within our own business or within any of our stakeholder groups."
We fulfil our responsibilities to protect personal data and to respect privacy rights in compliance with data protection, privacy laws and regulations across the world. We recognise that digitalisation comes with data risks. Therefore, appropriate information security and data privacy policies will be continually reviewed to ensure minimal impact on all our stakeholders.
See our Bribery & Corruption Prevention Policy  

Sustainability – Governance
"A proactive approach throughout the Club ensures sustainability practices are refreshed and adhered to."
The Club's Board supported by its Risk Committee oversees Management's implementation of the Club's policies including our Sustainability Policy.  
Our CEO takes responsibility for the delivery of the Club's sustainability initiatives including managing the financial risks arising from climate change and ensuring the well-being of our employees.
The Management Board is responsible for ensuring that Board decisions are implemented in compliance with the Sustainability Policy. 
Our Climate Change Working Group was created to identify the risks arising from climate change and to define management actions. This Group has now taken on a wider ESG remit and has been renamed the ESG Working Group. This reflects our commitment to support the relevant UN Sustainable Development Goals and reduce our environmental impact.
Sustainability Champions, representing all business functions, are the focal point for our day-to-day sustainability efforts and new initiatives.     
All team members are expected to be familiar with the relevant policies and procedures and are encouraged to focus on sustainable business and to share ideas, suggestions and observations with their Sustainability Champions. 
Sustainability – ESG Working Group
Our ESG Working Group comprises members from all divisions of our business to ensure that climate risk, sustainability and decarbonisation issues are embedded throughout the Club and to encourage full participation from all business functions and office locations.